Historic Lavender Inn Serves Up Gardens, Draft Beer & a Culinary School
Here's How to Attract the Perfect Guest
Do you want the dazzling, glorious parts of your inn to grab the perfect customer match for you?
That's what happened in the design of the Lavender Inn's new bed and breakfast website.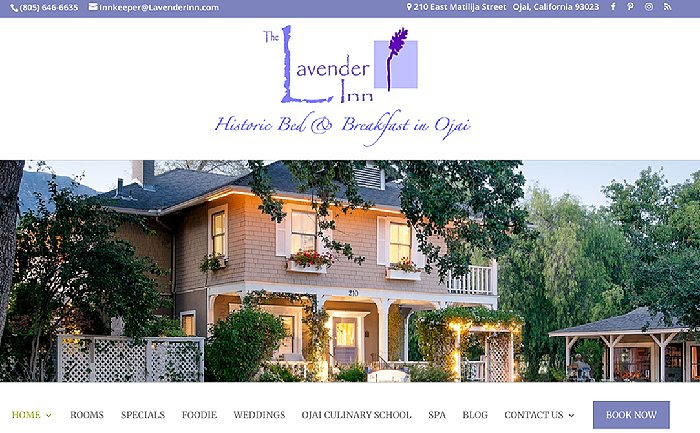 Their Spa, their Culinary School, and delicious breakfasts – everything stands out. And all their offerings, even their draft beer and Cancer Retreat keep to the inn's unifying design.
Note the color palate – as you would expect the color Lavender shows up. But the design was created with an experienced, light hand,. The colors don't overwhelm but are inviting https://lavenderinn.com/. Also, the white space is generous and enhances the signature Lavender color.
The whole website becomes a compelling guest experience in itself.
Note the words and pictures on the Foodie Page https://lavenderinn.com/foodie/
"…during the warmer months, enjoy local craft beer on tap in a chilled glass. Our beer tap is located, for your convenience, on our veranda. We carry Ojai Brewery's Pixie Pale Ale (Ojai in known for growing pixie oranges!)…
Good Photos and Great ContentMakes for a Sticky Site*
What is a "Sticky Website"? It's Words and Pictures and Beautiful Custom Design.
That's what Lavender Inn created with our team at iLoveInns. We all know good images are enticing. They hit the a strong emotional note that actually fastens the memory of your website and hence, the inn into a potential guest's ability to recall you compared to others websites.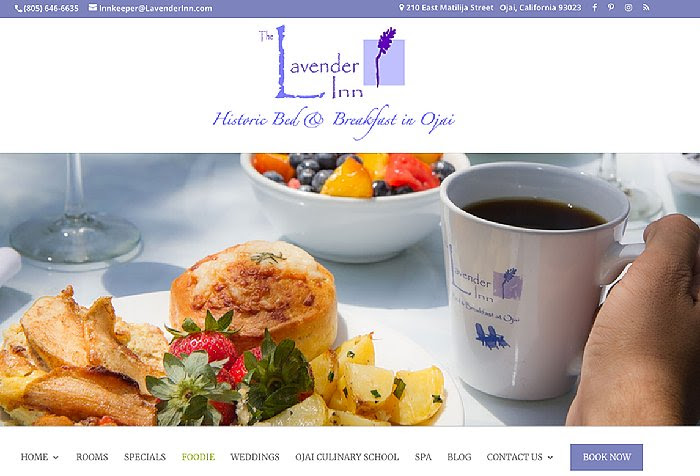 Project Your High Value – Combine high quality photos with well-developed content and a custom design and your website projects your inn's quality and high value. The Lavender Inn has accomplished this.
5 Best Hotel Websites to give you even more ideas:
Listed as a best hotel website – check out this historic hotel and its elements of design – It was recently chosen as Number One in an article on 5 best hotel websites. When you chose Rooms from the left side menu – note the "Which room is yours?" and below that: "Our room rates are high. In Value." Note their list of Value items.
You can have your own Best Website by working with iLoveInns to tease out the value and unique offerings of your inn. There's so much to choose from these days because of our advanced website design elements that have proven to maximize "the path to booking."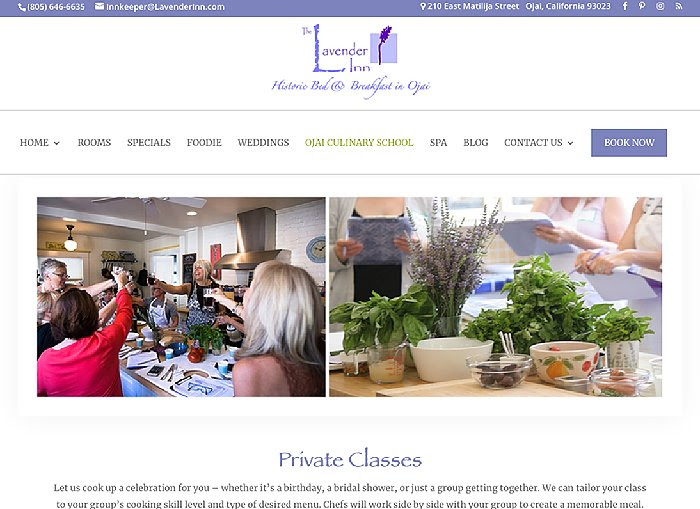 What We Heard
Collaborating Yields Success – Thank you for everything, I really mean it. The investment we made with your company is a GREAT partnership. Sales continue to gain traction from our website that we collaborated together on to be a success. Cheers!" William, owner, Canyon Villa
Great Experience Working With iLoveInns – "You folks have been great to work with. We recommend you to everyone."  John Algiere, owner Kerr House
Revamp My Website Please – "You really know what you are doing. That's why I want you to revamp my website. I want you to add pop-ups, photos, and create a better Things to Do page. Also, I've got some other sections that need redesigning."
I Love Our New Website So Much!! – "Thank you to you and your team for making this happen!!!"  (New site has not yet launched.) Amy, owner ADK Trail Inn, NY
The Website You Built – "I talked with Dave O'Reilly and he is very happy with the new site you built him. (PRIMROSE)" Jonna, NY
Absolutely Beautiful – "I looked at a lot of sites and then I finally found something I really liked. It was absolutely beautiful! When I scrolled to the bottom and I saw that it was built by iLoveInns, I burst out laughing because I had already been talking to Diane at iLoveInns!
Very Happy – "BTW, I talked with Dave O'Reilly and he is very happy with the new site you built him. (PRIMROSE)" Jonna, Olde Rhinebeck Inn, NY
"Diane, the fabulous Diane, "Thank you for your infinite patience and talking me off the ledge yesterday. I have a contract with THINK now and will start sending you pics for our new website. Muchos gracias."-  Jeanne MacArthur, MA
You Deserve a Medal, a Trophy – "Kudos galore, hugs, gobs of money, and my eternal gratitude (that last one you have already, for sure)." Innkeeper happy about finishing their new website.